Upholstery Cleaners in Plantation, FL
As a homeowner, you must not only work to put food on the table and maintain a roof over your head. But you must also maintain your residence.
Maintaining the appearance of upholstery requires cleaning it regularly. When not handled properly, even leather can become stained and irreparably damaged. If you find that all these responsibilities are overwhelming, consider having our highly trained cleaning technicians perform regular upholstery cleaning services in your home. There are several advantages to hiring a professional upholstery cleaner.
Advantages of Professional Upholstery Cleaning
There is a good chance that you spent a small fortune on your dining chairs, sofas, and recliners. The money spent on the furniture probably seemed like an excellent investment to you, especially if it matches everything in your house. Having just found the perfect upholstered furniture for your home, you probably want to do everything in your power to preserve its appearance.
A great way to maintain your upholstery is to hire Sunbird Carpet Cleaning Plantation to clean it regularly. If you never hired professionals to clean your upholstery before, don't worry because our experts will go above and beyond your expectations.
Here are the advantages of hiring a professional upholstery cleaning company:
Your furniture will look as good as new after cleaning.
Cleaning your carpets and furniture professionally will eliminate all dirt, dust, and allergens.
Since you are hiring a highly trained cleaning team to do the job, you avoid the risk of damaging the office chair or sectional sofa in your living room with DIY methods.
We use high-tech equipment and commercial products to ensure your upholstered furniture is thoroughly and properly cleaned.
You will save both time and effort, as our experts will provide the service with minimal interruption to your normal routine.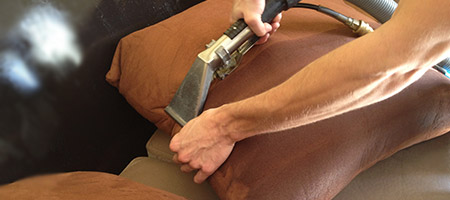 We Use Green Cleaning Practices
Sunbird Carpet Cleaning Plantation cares about your well-being. So instead of harsh chemicals that may harm you or your family, we use eco-friendly cleaning solutions as well as the best cleaning methods.
Steam Cleaning (Hot Water Extraction)
We have made ourselves a dependable upholstery cleaner here in Plantation, FL. As part of our upholstery cleaning and stain removal process, we employ hot water extraction, which is a completely non-toxic and extremely effective method for removing embedded stains. The use of heat and steam not only sanitizes the upholstery fabric but also removes all of the embedded bacteria and microbes.
Deep Cleaning
We clean your upholstery with eco-friendly methods to remove the dirt and grime that are stuck to the fabric. Stain removal is just the beginning of this process. We also remove any harmful microorganisms from the upholstery. Deep cleaning is a more intensive version of steam cleaning, making it the perfect choice for upholstery that is heavily stained.
Foam Cleaning
You will not find a better upholstery cleaning service in Plantation, FL. After we foam clean your upholstered furniture, you will love the fresh smell it gives off.
Why Should You Choose Sunbird Carpet Cleaning Plantation?
At Sunbird Carpet Cleaning Plantation, we offer a variety of cleaning services for both residential and commercial spaces. We are a local company that specializes in carpet and upholstery cleaning. We clean all types of furniture (sofas, couches, chairs, armchairs, recliners, chaise lounges, etc.) and upholstery fabrics (leather, microfiber, suede, synthetic, and natural fabrics).
Because we know how much you value your furniture, our technicians go through extensive training on handling all types of upholstery. We will only thoroughly clean your upholstery with quality cleaning solutions but we also use advanced stain removal techniques to rejuvenate the fabric.
We have been serving clients throughout Florida for nearly two decades. Our team of cleaning professionals is trained and certified to provide a variety of cleaning services for commercial and residential properties.
What sets us apart from the rest of the competition is our technicians' practical experience and expertise gained over the years. We maintain that edge by offering a 100% satisfaction guarantee on all our work.
Get A Free Estimate in Plantation, Florida Today!
There is no need for you to spend hours cleaning your upholstery and furniture, perusing through different products to see what works for leather, suede, or velvet, and exposing your valuable possessions to irreversible damage.
With our easy-to-use system, you can effortlessly hire an upholstery cleaner for a residential or commercial project in Plantation, FL.
As a business, we value our customers, and that includes future customers. Because of this, we provide free estimates for all our services. No matter how small or how large your job is, you can always get a free estimate from us. We think you will be pleasantly surprised by how competitive our prices are, so do not wait and call us right now at 954-302-2863.
Call Sunbird Carpet Cleaning Plantation and schedule a cleaning session to make your home shine!